Apache Cordova 3 Programming Site Retired

Posted: July 2, 2018 | Categories: Mobile Development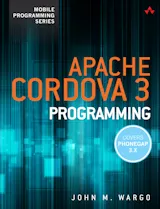 I shutdown the web site for my Apache Cordova 3 Programming book today. The book came out in 2013, and was replaced a year or so by my Apache Cordova 4 Programming book. Cordova's at version 8 right now, so there seems to be little need for a website about a book for Apache Cordova 3.
You can still buy the book, but there's no longer the need for a promotional website. Don't worry, the code from the book is still up on GitHub.
Next Post: NC Lottery App
Previous Post: Protecting Data in a URL
If this content helps you in some way, please consider buying me a coffee.